With temperatures already soaring this summer, your business or commercial space almost certainly has its air conditioner running on a daily basis. As such, you've hopefully already had commercial Houston, TX HVAC maintenance done on the system. After all, preventive maintenance is given such a name for a reason—maintenance helps you avoid AC emergencies that can lead to significant business interruptions and loss.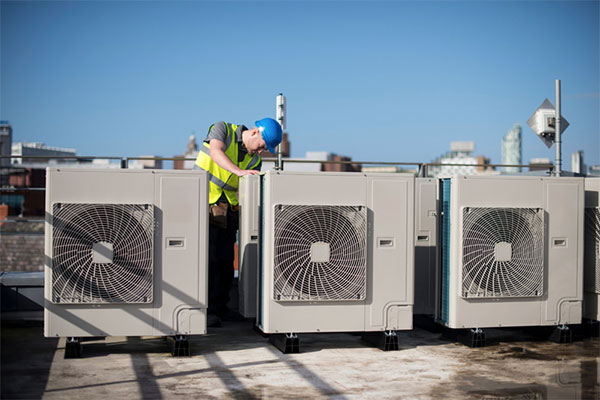 During your commercial AC maintenance appointment, our highly trained and experienced technicians will take a close look at each component of your cooling system in order to make sure it's functioning as it should. We'll make necessary adjustments, and alert you to any pressing repair needs so you can schedule them ASAP at your convenience. However, if you skip maintenance, then you're opening yourself (and your livelihood) up to problems and potentially unnecessary AC repair needs.
The Benefits of Keeping Up with Commercial AC Maintenance
We're often asked if homes and businesses really need air conditioning maintenance every year. Our answer will always be "yes!" It's even more important that commercial spaces have this service done, since without it they can incur serious business interruptions that can negatively impact their bottom line.
That aside, there are a number of advantages to staying on top of commercial AC maintenance, such as:
A More Reliable Air Conditioning System: This is perhaps the biggest benefit of annual commercial AC maintenance. Your commercial cooling system will be less likely to suffer from a major operational failure over our long, hot summers. When our technicians thoroughly inspect your system, they'll locate areas where natural wear and tear could potentially lead to breakdowns. They'll also make adjustments and clean necessary components to further remove potential issues. With a properly maintained air conditioner, you can progress into summer with the confidence that you'll avoid business interruptions due to this particular problem.
A More Energy-Efficient System: You have enough to worry about financially, why would you want to pay more than necessary for the energy that your air conditioner uses up? The wear and tear on a commercial AC system creates more strain on the components within. This is particularly true for the blower motor. As a result, your energy bills will rise as the system tries to overcome the strain. If that commercial AC system has annual maintenance done regularly, however, it should retain 95% of its efficiency rating throughout its lifespan.
A Longer Lasting AC System: Speaking of lifespan, most air conditioners are designed to last a fairly long time before requiring a replacement. But without routine maintenance and check-ups on that system, you may find that your commercial space requires an AC replacement years earlier than it would have otherwise.
Fewer Repair Needs: Repairs are inconvenient. They can be costly, and they interrupt business, and thus your productivity. The good news is that approximately 85% of the repairs that an air conditioner might need during its service life are actually preventable, thanks to maintenance inspections that help us catch problems early—equating to fewer service calls and more savings.
If you need to schedule AC maintenance or any other air conditioning service, simply contact Fresh Air, LP today!