Preventive Maintenance You Can Trust
Fresh Air Inc. provides residential HVAC services, including preventive maintenance. To ensure your unit is working efficiently and safely, it's important to schedule a preventive maintenance service with us at least twice a year. We'll examine your system and make sure there are no leaks or clogs, drain lines are clear, and refrigerant levels are sufficient. If we find any issues, we can repair them before they become more serious problems that will cost you even more money down the road!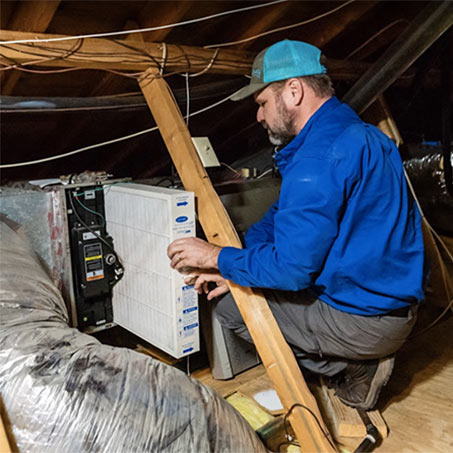 Our Residential HVAC Preventive Maintenance Services
Two Tune-Ups Per Year
These regular check-ups also enable us to catch problems such as loose or burnt wires, and freon leaks, before they lead to a larger problem such as motor failure.
Energy Saving Coil Cleaning
Dirty coils reduce efficiency and cause your unit to work harder, causing parts to wear out faster, and can shorten the life expectancy of your unit. Your unit will cost you more month after month on your utility bill if the coils are not kept clean. Tests performed by the EPA explain that as little as 1/10th of a centimeter of dirt or dust on a coil could reduce efficiency by 21%. Since the average homeowner's heating and cooling bill is $1,500 per year, a 21% loss in efficiency means you could be wasting up to $315 each year.
24-Hour Priority Service, 365 Days/YR
When you have an emergency, you can rest assured Fresh Air, LP… WILL BE THERE! Our commitment to our customers means we will have a technician to your door within 24 hours of calling our office.
Labor Warranty
All of our labor services are under warranty for 30 days. If you have a problem within 30 days of service, there will be no charge to come back out and diagnose the problem. We stand behind our work.
15% Off Replacement Parts
Replacing parts doesn't have to be hectic. With our 15% discount, you can replace parts of your HVAC that have worn out or are inefficient. All our parts are of high quality and are long-lasting. Grab your parts while the offer still lasts.
Furnace Tune-Up
Furnace tune-ups are the best way to maintain your furnace and protect against costly repairs and replacements. Schedule an appointment with our HVAC specialists today, so we can make sure your home is comfortable all year round!
Air Conditioner Tune-Up
If you find yourself shivering through the winter months or sweating through the summer ones, your air conditioning and heating might need a tune-up. Fortunately, Fresh Air Inc's residential HVAC services include air conditioner and furnace tune-up services to get your system running like new again so that you can be comfortable year-round. Our skilled technicians are certified to handle any type of cooling or heating appliance.
Fan Coil Tune-Up
If you're experiencing problems with your fan coil, we can help! Whether you need us to perform a tune-up or repair your system completely, we're happy to do so. Our team is trained and certified to work on any make or model of fan coil unit and get it running quickly and efficiently.
Heat Pump Tune-up
This winter, make sure you're getting your heating systems checked and tuned by a qualified professional –especially if you have a heat pump system. Remember that even though a residential HVAC company might say that your unit is running well during its inspection, an annual tune-up will keep it running well all year round. And remember not to wait until the last minute, winter is coming! Call us today at (281) 499-3511 or fill out the online form.