There are a number of people out there who are willing to work on your air conditioner (or heater, for that matter). Many of these HVAC "professionals" or enthusiastic handy people have little to no experience in the industry and are hoping to learn a thing or two by working on your system—but, do you really want your system to be used as a guinea pig?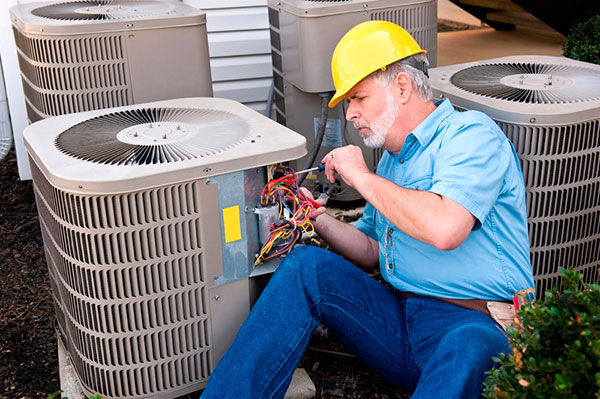 We really do not recommend putting the wellbeing of your HVAC system at risk—faulty installation or incomplete repairs are a couple of the top causes for premature AC system failure. Fortunately there are qualified HVAC contractors out there with the training and skills that go above and beyond to ensure your home comfort systems are in the best shape possible—Fresh Air is one of those contractors!
We understand you want to do your due diligence in choosing an air conditioning technician—so we've shared some factors to look for below.
They Offer Comprehensive Services
When you're working with an HVAC company, you want to work with one who offers every service you may need for your air conditioner over the years. You might just be looking for an installer right now, but in the near future you will need to have the system tuned up, and small repair needs will begin to crop up after a few years too as parts wear down.
If you choose a technician and a company that can only do the installation, you'll have to start the process of looking all over again when you need subsequent service. It's far better to find a trusted company now, who you can call whenever you need them.
They Have Appropriate Certification
If you are working with a NATE-certified technician, that's a good start! NATE stands for North American Technician Excellence, and this certification is the most widely recognized in the industry. Not every contractor or company will hire NATE-certified techs.
It's not require to work in the field, however, it indicates that the technician you're working with has studied hard enough and had comprehensive experience in order to be able to pass rigorous testing to prove their qualifications in HVAC in general or even in specialized areas.
They Are There for Emergencies
We get it—no emergency happens at a convenient time. Many people think if their system goes out on a weekend or "after hours" that they have to tough it out and wait until normal business hours. But great AC technicians and companies provide 24/7 emergency service.
This is a sign of a company that truly cares about the people in their community. Again, for now, you may simply need an AC installation. But later one if that air conditioner needs a sudden repair, you'll be very grateful to have someone you can call at any time.
They Have a Great Maintenance Program
Last, but certainly not least, great HVAC companies offer a comprehensive maintenance program. This is an agreement you enter into with the contractor, to set a payment schedule for routine maintenance each year for each HVAC system you have. This will provide you with:
Improved and consistent system efficiency.
Fewer repair needs.
A longer-lasting air conditioner.
Another great part of being part of a membership plan like this is you get additional benefits on top of just a better performing system. Many HVAC companies will offer incentives for their maintenance program members, such as discounts on replacement parts.
For expert service on your air conditioning in Katy, TX, and to learn more about our maintenance program, contact Fresh Air, LP today!