Having a reliable and effective air conditioner in Texas isn't a negotiable subject. A cooling system is a necessity! This is why, when your trusty, long-standing central air conditioner gives up the ghost, you know you have a major problem on your hands. However, before you hop on the phone to set up an air conditioning installation in Sugar Land, TX for another central AC system, we think you should know about what your other options are.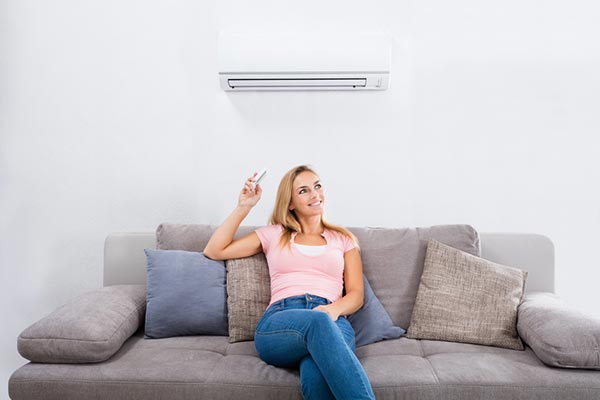 Specifically, we want to let you know that you have the option to go ductless. A ductless system is almost exactly what it sounds like, an air conditioner that is able to operate without the use of ductwork. Interested in learning more about this system and how it could benefit you? We are happy to give you some information that might help you determine whether or not a ductless air conditioner is the right fit for you.
What is the Deal with Ductless Heat Pumps?
Ductless air conditioners are also known as ductless mini splits. These are systems that still utilize refrigerant to create cool air in your home by transferring heat out of the air indoors and moving it outside.
Ductless systems can operate without ducts because they use a conduit to connect the indoor blower units to the outdoor units, providing them with a source of refrigerant and a condensate drain. Your ductless system can include one outdoor unit and multiple indoor units that provide effective and potentially customized cooling.
What are the Benefits in a Switch?
So, what might be the benefits of switching from a central air conditioner to a ductless air conditioner? There are several pluses we think you should know about.
Improves efficiency with no less effectiveness: Ductless systems offer improved energy efficiency meaning you'll enjoy optimal comfort in your home without having to spend more money. In fact, ductless AC systems will end up costing you less in the long run.
Customizable comfort options: Ductless systems utilize air handlers to blow cool air into your home. These air handlers can be set up to operate independently or jointly. This means you can have an evenly cool home when you want it, or you can use less energy by only running the air handlers that you need. Whatever comfort level you need, your ductless system can provide.
The potential for heating and cooling: Ductless mini splits are unique in more ways than one. Another great aspect of these systems is that they aren't just for cooling, they can be switched to provide heating during wintertime too, thanks to their reversing valve. This means that by installing one system you get twice the amount of comfort.
No more upkeep for your ductwork: When you opt for a ductless system, it means you don't need to worry about keeping up your ductwork. That means no duct cleaning, sealing, repairs, etc. That also means less dust and more money saved too.
Interested in making the switch to ductless? Contact Fresh Air, LP to get the job done right.