As the heat gets progressively worse over the course of summer, the last thing you want is to deal with an air conditioner that can't keep up. It can certainly be alarming when a cooling system isn't able to cool in order for you to feel comfortable, or if the airflow doesn't seem powerful enough. When these things occur, we understand how tempting it can be for you to try to save money by looking up how to fix the problem yourself. Or, you may choose to call "that guy down the street" who has some handyman skills.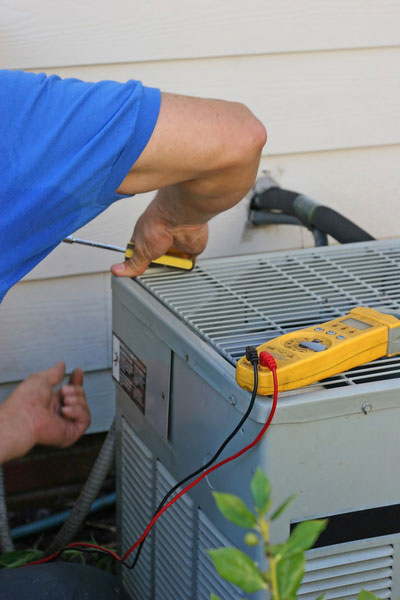 We urge you to not go with either of these options. Rather than attempting a repair on your own—and potentially damaging your Katy, TX air conditioning system further in doing so, it's a better idea to call trained and experienced HVAC technicians. There are a number of reasons for this, which we've highlighted below:
Insurance
Professional HVAC technicians require proper licensing, bonding, and insurance. These are the basic requirements to work in this profession. This protects you, the homeowner, from being liable should any damage or injury occur, which is an inherent risk if you try to do the repairs on your own or trust an amateur for the job.
Accurate Diagnosis
A big part of performing AC repair is finding out what exactly is wrong to begin with. Most symptoms of AC problems have a number of causes behind them. People without the adequate training to diagnose these causes won't be able to pinpoint how to fix the problem—which can be anything from low airflow or a drop in cooling power to an unresponsive thermostat.
Comprehensive Repairs
What's the point of doing a repair job yourself, or paying an amateur to do it, if it's not done thoroughly or correctly? Sure, it's possible that a non-professional can correctly repair an AC problem. However, is "possible" really a gamble you want to take on one of the largest investments in your home? When it comes to your comfort, we really doubt it. A true professional will get the job done right so you don't have to worry.
Access to the Right Tools
The basic tools that anyone can purchase at a hardware store are not adequate for fixing a complex piece of refrigeration technology like your central air conditioner. If you've ever seen the inside of a fully stocked van of a true HVAC professional, then you'll understand the extent of equipment needed to get the job done.
Efficiency
We aren't talking about the efficiency of your air conditioner here (although getting repairs done right will certainly help with that), but rather, the speed and efficiency of which your repairs are done. Hiring a licensed and experienced professional can be the difference between getting your repairs done in a few hours or getting your repairs done in a few days. And let's face it, in the middle of summer, nobody wants to wait a few days!