Because of how they look, ductless air conditioning and heating systems often get mistaken for window or portable air conditioning units. They do have many of the same components, but the configuration of the two is much different. Ductless systems, for instance, have an indoor unit and separate outdoor condenser. Due to their complexity, they necessitate extra care.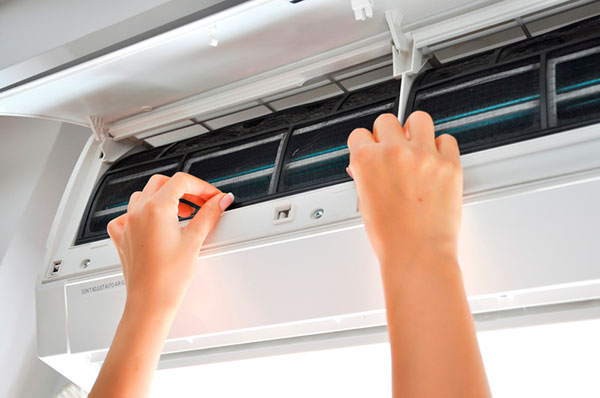 Taking care of your investment includes scheduling Sugar Land, TX HVAC maintenance for your ductless system on a regular basis. Because this is a heating and a cooling system in one, you should have this maintenance done twice a year—ideally once in spring to precede the cooling season and once in fall, before you need the heat. Keep reading to learn why ductless system maintenance is so essential!
Ductless Systems Need to Be Cleaned
Cleaning out the condensate line and evaporator coils of your ductless system is an important step in the routine maintenance of your unit, as it protects your home. Condensate line leaks are a bigger deal than many homeowners realize. This is where water drains from the system as condensation builds on the indoor evaporator coil. Over time, condensate lines can get clogged up, and as a result water might not be able to properly drain from the system, which could spell trouble.
Typically, a ductless system's indoor unit is located in a finished space, and a leak can do a considerable amount of damage, which is why cleaning it is so vital. A good technician should do a thorough cleaning of this and the evaporator coil, removing and cleaning any indoor air quality components and removing any buildup from these components and more.
Ductless Systems Can Suffer From Mechanical Troubles
The inner components of your ductless system can run into just as many issues as the blower units on a regular split-system central air conditioner. While ductless units are made to be very durable, regular maintenance still helps to prevent heating and cooling problems.
For instance, during your maintenance appointment, our technicians will clean off the outside condenser coil, which can develop dirt and grim on it that can insulate heat, which is supposed to release into the air around the coil instead. We'll also adjust the blower fan assembly as needed to ensure it doesn't break down when you need it the most.
Maintenance Boosts System Efficiency
One of the biggest advantages of staying on top of routine ductless maintenance is that in enables your HVAC system to function more efficiently. A ductless system that runs smoothly—the fan belts are adjusted, moving parts are lubricated, coils are cleaned—requires less energy. This means you pay less on your monthly bills.
One time maintenance appointments help, but continued maintenance is really what you need to ensure efficient operation for as long as possible. And when you join a maintenance program like ours, you'll receive priority service and other money-saving benefits.
Contact Fresh Air, LP for exceptional HVAC services, from maintenance and repairs to installation and replacement, in the Sugar Land area and beyond.