In a place like Texas, it can be hard to keep an air conditioner in pristine condition, considering how much demand homeowners put on their systems. If you care for your cooling system properly, however, there's no good reason it can't work as efficiently and effectively as possible for as long as possible. Part of this care is ensuring you invest in routine Sugar Land, TX air conditioning maintenance.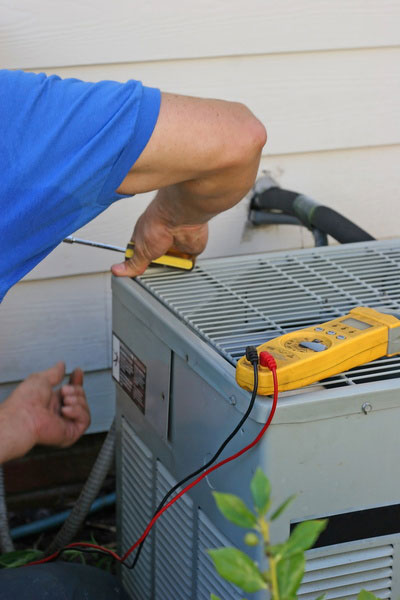 One of the most common questions we get about maintenance is when the best time to schedule it is. Generally speaking, air conditioning maintenance should be scheduled before the system's heaviest period of use, so in early spring. However, when you have your maintenance scheduled is not as important as how often you have the service completed. But why is preventive maintenance so necessary?
Scheduling Preventive Maintenance
A good deal of the problems you're likely to deal with over the lifespan of your air conditioner will develop relatively slowly, over time. Additionally, they probably won't start to give off any obvious symptoms until they've been able to develop for quite some time.
If you're looking to prevent your air conditioner from becoming damaged, then you can understand why this would be a problem. The best way to catch problems early on in the game is to schedule routine preventive maintenance for your AC system once a year. This gives our technicians the chance to resolve any issues before they become much bigger emergencies.
Cooling systems that receive this level of care have been shown to function up to 40% more efficiently than systems that do not get maintenance, and are 90% less likely to develop problems in the future. It's in your best interest to schedule preventive maintenance for your AC system for these reasons. Even if you miss the ideal maintenance window, like we mentioned above, it's still better to have it done during winter, or even to have it done late, than to skip it.
Call for Repairs As Needed
Whether you're alerted to repair needs during your maintenance session or repairs crop up from skipping your tune-up, it's imperative that you contact a pro for repairs when they're needed. Doing so will reduce the chance that you'll run into a much bigger and more urgent problem later on down the line.
There are a number of signs you can watch out for that might indicate your AC system needs repairs. Strange noises, for instance, are a clue. This might include grinding, hissing, or clanging. Grinding can indicate that an air handler is failing, while hissing can be the sign of a refrigerant leak and clanging might mean that a component has become loose.
Another sound to listen for is your system cycling on and off in rapid succession. This process is called short-cycling. It has a few different potential causes, and is damaging on your cooling system, causing it to wear out much faster than it otherwise would. Short-cycling is definitely a problem that should never be ignored, so if you notice it be sure to give our team a call.
For reliable air conditioning services, contact Fresh Air, LP today!