When temperatures soar during out hot summer days, you might run into an air conditioning problem that prevents your system from rising to the occasion. It's alarming when your air conditioner isn't sending out the cool air you need to feel comfortable, or if it isn't sending out any air at all!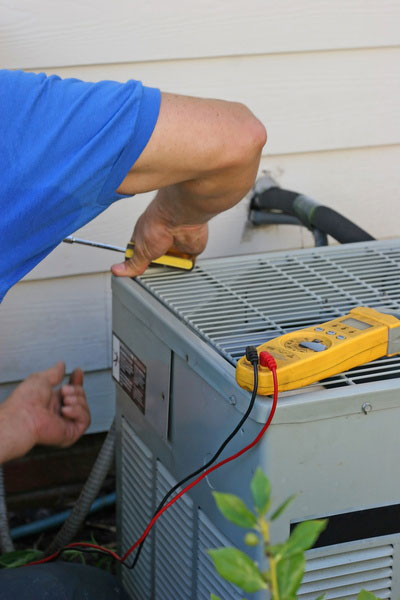 In the scramble to get your air conditioner back to work as quickly as possible, you might try to fix it yourself by opening up one of its cabinets and poking around inside with a DIY guide up on your laptop. You may even call a handy neighbor to help.
We really do need to discourage this, however, for a number of reasons that we'll cover below.
HVAC Pros Have Insurance
Professional AC repair technicians have to be licensed, bonded, and insured. These are basic requirements to being an employed HVAC professional. This protect you from being held liable for any damage or injuries that might occur, whereas if you do it yourself or allow an amateur to do the work, the financial responsibility to cover damages rests on your shoulders.
Professionals Give Accurate Diagnostics
A large part of conducting proper air conditioning repairs is figuring out exactly what's wrong to begin with. Most AC symptoms have a number of potential causes. But people without adequate training wont' be able to find the actual reason for troubles, such as a loss of airflow, a drop in cooling, or an unresponsive thermostat.
Professionals Conduct Accurate Repairs
What's the point of doing a repair job if it's not done correctly? It is possible that a non-professional can correctly fix a small AC problem. For instance—if you notice a drop in cooling power it could be that your air filter is clogged. Changing your air filter is a task that you can and should be performing on your own every 1-3 months.
As for any other type of AC repair, there's no sense in taking a gamble—a true professional will get the job done right, and won't be satisfied until the job is complete.
HVAC Pros Have Access to the Right Tools
The basic tools that you can purchase at a hardware store aren't adequate for fixing a complex piece of refrigeration technology like a central AC. If you've ever seen the inside of a fully stocked van of an HVAC pro, you'll know the extent of the high-end tools necessary to get the work done.
Professional HVAC Work is Efficient
How much time do you really want to dedicate to getting your air conditioner back up and running? A few hours—a few days? A licensed pro will see that the job is done in the shortest amount of time possible—our priority is restoring your comfort.
Keeping all of the above mentioned points in mind, we must also mentioned that not all HVAC pros are created equal. Having a license doesn't automatically mean you can count on the highest quality work, though it is a good starting place. You'll want to look at a number of factors when choosing the right HVAC pro, including their professionalism and their customer reviews.
Do you need quality service for your air conditioning in Sugar Land, TX? Then contact Fresh Air, LP today!